Ogden
High School
X
Search for another school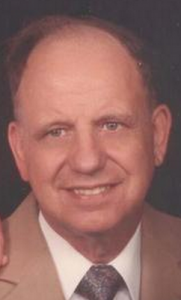 Max K. Kennedy - 3/19/2011
Class of 1940
Max K. Kennedy beloved father, grandfather, and great-grandfather, passed away Saturday, March 19, 2011. He was born on July 31, 1922 in Ogden, Utah to Karl John and Algie McKinnon Kennedy. He grew up in Ogden and Randolph, Utah.
He graduated from Ogden High School in 1940. He received an Associate of Science from Weber College in 1958, a Bachelor of Science from the University of Utah in 1960, and a Master of Science from the Massachusetts Institute of Technology in 1962.
He married his high school sweetheart LaVerne Bradley in Preston, Idaho on February 27, 1942. They were later sealed in the Salt Lake City Temple on March 24, 1955.
Max enlisted in the United States Army and is a veteran of World War II. He worked at Hill Air Force Base, Utah and was Deputy Director of Maintenance for many years, and retired as Assistant to the Commander.
He was active in the Church of Jesus Christ of Latter-day Saints and served in many capacities. He and LaVerne served a mission for the Church in Monahans, and Brownwood Texas. Max helped produce one of the early editions of the "Temple Engineers Handbook" for the church. He served for the church history department and transcribed the diaries and journals of several early church leaders.
Max was a lifelong advocate of the hearing impaired and received one of the early cochlear implants. He acted as guinea pig for cochlear implant research at Research Triangle N.C. which helped realize several technological breakthroughs in cochlear implant digital sound processing. His sister and his four children and many others have benefited from his contributions.
Max loved to spend the summers with his friends and family at his cabin in Christmas Meadows. He walked and hiked the mountain trails extensively and enjoyed the forest, wildlife, and wild flowers.
Max was preceded in death by his wife LaVerne, sister Kay Wynne, daughter Carol Duncan, son-in-law Dale Duncan, grandson Brian Holbroook, and nephew Wayne Wynne. He is survived by his son and two daughters, John (Joslyn) Kennedy, Layton; Louise (Kelly) Middleton, Troy, Michigan; and Nancy (Mark) Taylor, Morgan; 14 grandchildren, and 26 great-grandchildren.
There have been
0
fuzzies left so far.
Sign in
if you'd like to leave a fuzzy
What's a fuzzy?
A "fuzzy", in this case, is a feeling or an emotion like "I miss you", "I love you", or just "thinking of you". Fuzzies can be left every day.