Ogden
High School
X
Search for another school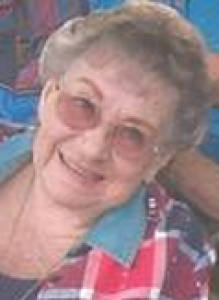 LeJeanne Koons - 6/30/2011
Class of 1946
OGDEN- LeJeanne Koons passed away on June 30, 2011 surrounded by her family after a courageous battle with cancer she lost the fight.
She was born November 3, 1927 in Ogden, Utah to Anona (Calton) Allen and Leland Koons. Russell H. Helen helped raise her.
LeJeanne married John Paul White Jr. on April 8, 1946 in Ogden. They had four children, nine grandchildren and three great-grandchildren. From this marriage are Joan White Brown, Austin, TX; Jill White, Santa Cruz, CA.: John Paul White III, Riverdale,UT; Michael McBride White, Santa Cruz, CA.; her brother Bruce L. Allen Sr. and his wife Sharon Allen were very dear to her, she held her brother close to her heart. She had many nieces and nephews that she enjoyed spend time with.
She attended Ogden High School and finished her education at Cabrillo College in Santa Cruz, CA. She attended training in cosmetology and wig distribution, teaching in these fields in California. She was a nation product line manager in wigs and cosmetics. She later opened a business in Santa Cruz, CA. which she managed until retirement 1986.
After retirement together with her life companion of 39 years, Keith Dyer sold their business and everything that wouldn't fit in their 34 foot travel trailer. They camped, traveled and fished across the country for 10 years before parking their rig in Riverdale in 1996, and buying a home. LeJeanne belonged to the Golden Spike Gem and Mineral Club. Because of her love for the railroad she was a proud conductor/docent at Ogden's Union Station and the third railroad conductor in her family.
LeJeanne was a remarkable woman who was a stranger to no one and a good friend to everyone she met.
Family would like to express thanks to Applegate Hospice for their tender and loving care for LeJeanne and suggest donations be made to Applegate in lieu of flowers.
There have been
0
fuzzies left so far.
Sign in
if you'd like to leave a fuzzy
What's a fuzzy?
A "fuzzy", in this case, is a feeling or an emotion like "I miss you", "I love you", or just "thinking of you". Fuzzies can be left every day.