Ogden
High School
X
Search for another school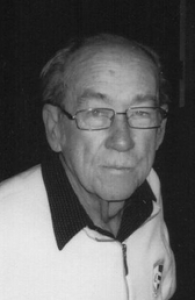 Grant E. Hansen - 5/3/2011
Class of 1949
Grant was a quiet, caring man who was dedicated to his companion and his family. He was a man who enjoyed the simple things in life, never desiring material things to be happy. He loved to read, take long walks, and enjoy the beauty of nature.
He was always a gentleman.
OGDEN – Grant was born in Ogden, the oldest child of Angus W. Hansen and Alice King Hansen. He had a strong bond with his parents, his Grandmother King, and three younger sisters.
He attended Washington Elementary and Washington Junior High where he excelled in swimming and sports. In the 10th grade, he had the leading male role in the school play. He graduated from Ogden High School in 1949. While attending Ogden High, he was a member of the school's band and baseball team. When they won the State Championship in 1948, Grant ranked 3rd place with the highest batting average. He graduated from Weber State College in 1961 with an Associate of Science Degree and in 1965 with a Bachelor of Science Degree. One of his professors, Grant Maws, said he was one of his best students; the first one to ever earn an A+ in his class.
Grant was inducted into the U.S. Army in April of 1951 and received his basic training at Camp Roberts, CA. He was sent to Baltimore, Maryland for C.I.C. schooling before being sent to Tokyo, Japan where he served for 16 months. He volunteered for six months duty in Korea before being honorably released in April 1953.
On April 16, 1953, shortly after arriving home, he met Marilyn Bean. Their love blossomed from their first date, through a two-year courtship and a marriage lasting almost 56 years. They married September 30, 1955 and had their marriage sealed in the Salt Lake LDS Temple on December 9, 1965.
Grant worked for the American Can Co. for 31 years until the plant closed in 1980. In the fall, he started working at Hill Air Force Base in the chemistry lab retiring in 1996. He had a deep respect for his co-workers at the places where he worked and received many awards for job performances. He was a dedicated employee and rarely missed work.
He was a member of the Lorin Farr 2nd LDS ward. He served in many organizations in his church; his favorite was working with the youth. He served over 31 years in ward and stake clerk positions. Following his retirement, he worked in the Ogden Temple doing sealings with his wife.
Grant enjoyed watching football games especially the Green Bay Packers and San Francisco 49ers. He looked forward to traveling with his family, especially trips to his favorite place SAN FRANCISCO. He was always proud of his children and grandchildren's accomplishments.
To all those who have cared for Grant during his years of health problems, and extended your friendship to him and our family, we are very grateful. (Drs. Harry Senekjian, Grace O'Brien, Grant Holland, Rob Taylor, Adhish Agarwal, Scott Richards, Pam Edith, and the staffs at Bonneville and Mark Lindsay Dialysis centers.)
Grant is survived by his wife Marilyn, son Kirk G. Hansen (Christie), daughter Cheryl A. Ranson (Brian), grandchildren Ashley, Cameron, Cherise, Deborah, and Johnathon; great-grandchildren Naomi, Michael, and Haiden; sisters Vivian Atwood, deceased (Floyd), Arlene Colvin (Wayne), Alta Wayment (Lee), two special sisters-in-law Kathryn Tobias and Marjorie Nichols.
There have been
0
fuzzies left so far.
Sign in
if you'd like to leave a fuzzy
What's a fuzzy?
A "fuzzy", in this case, is a feeling or an emotion like "I miss you", "I love you", or just "thinking of you". Fuzzies can be left every day.