Ogden
High School
X
Search for another school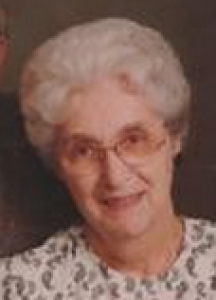 Nedra Williams Thiel - 7/20/2011
Class of 1941
May 17, 1923 ~ July 20, 2011
Mom, you're the greatest!
God saw you were getting tired and a cure was not to be. So He put His arms around a you and whispered 'Come with Me.' He knew you were suffering that the days were getting hard. So He gently closed your eyelids and whispered 'Peace be thine.' In tears, we watched you sinking, we watched you fade away. Our hearts were nearly broken; you fought so hard to stay. It broke our hearts to see you go, but you did not go alone. For part of us went with you the day God called you home. A golden heart stopped beating, hard working hands at rest. He broke our hearts to prove to us, He only takes the best.
Our loving Mother, devoted Grandma and Great-grandma, Nedra Maxine Williams Thiel, 88, passed peacefully into the arms of her Heavenly Father on Wednesday, July 20, 2011.
Nedra's parents were Ethel Petersen and Thomas Hyrum Williams. She was born May 17, 1923 in Ogden, Utah. She graduated from Ogden High School.
On May 14, 1942, Nedra married Vincent Raymond Thiel in Ogden. Their marriage was later solemnized in the Ogden LDS Temple.
She was a member of the Clearfield 10th LDS Ward.
Nedra enjoyed reading and crocheting. Spending time with her family was her number one interest. She loved being with her children, grandchildren and great-grandchildren.
She is survived by one daughter, Shanna Lynn Lochhead, South Ogden; two sons, Raymond Thiel, Clinton; Kelly (Shirley) Thiel, Clearfield; eleven grandchildren, and 18 great-grandchildren.
Nedra was preceded in death by her husband, parents, two granddaughters, one brother and three sisters.
The family wishes to thank the staff at Symbii Hospice for their compassion and loving care and all others who have shown love and support.
There have been
0
fuzzies left so far.
Sign in
if you'd like to leave a fuzzy
What's a fuzzy?
A "fuzzy", in this case, is a feeling or an emotion like "I miss you", "I love you", or just "thinking of you". Fuzzies can be left every day.