Ogden
High School
X
Search for another school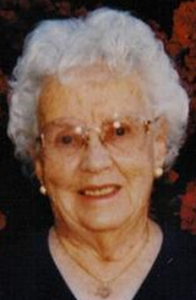 Louise Carmen Richardson Bushnell - 5/24/2011
Class of 1934
Louise Carmen Richardson Bushnell gently slipped from this life into the loving arms of her Savior and many loved ones in the early hours of May 24, 2011, of causes incident to age. She lived a full life of 95 years and saw and experienced almost incomprehensible changes in the world into which she was born in 1916.
Born in Ogden, Utah, to Louis Ebenezer and Isabelle Smith Richardson on February 26, 1916, she was the unexpected twin after big brother Harmon came into the world. The 3 lb. little girl was not expected to live and placed in a cardboard box near the coal-burning stove while attention was paid to her brother and mother. Carmen proved her feistiness, resilience, and good nature as she outlived by many years her husband, siblings Melba and Harmon, and most of her contemporaries.
She attended Ogden City Schools and graduated from the old Ogden High School in 1934. As a young woman, Carmen met the handsome Leo Charles Bushnell. They married in Los Angeles, CA on January 3, 1938. Their marriage was later solemnized in the Ogden LDS Temple.
They resided in Los Angeles until the conclusion of World War II when they returned to their hometown of Ogden and raised their children on idyllic Swan Street in the carefree 50s. Carmen was a doting and loving mother to Brent Lee, Jill Louise, and Holly Rae. She was a member of the Ogden 30th Ward.
Carmen volunteered as a nurse's aide during the polio epidemic at St. Benedict's Hospital and later managed the Ogden Gold Strike Stamp store for many years. Respected by management, she traveled to new Gold Strike stores across the country to open stores and train other managers. She was a member of the Ogden Altrusa Businesswomen's Club.
Upon Leo's death, Carmen moved to Kaysville to be near her daughter Holly and family residing at St. Mark's Garden and Apple Tree Assisted Living until the time of her death.
She is survived by her three children, Brent Lee Bushnell, San Francisco, CA, Jill Louise (Jerold) Lundgren, Mapleton, Utah, and Holly Rae (Stephen) Handy, Layton, Utah. She leaves behind 12 special and much-loved grandchildren and 34 great grandchildren, whom she dearly cherished.
There have been
0
fuzzies left so far.
Sign in
if you'd like to leave a fuzzy
What's a fuzzy?
A "fuzzy", in this case, is a feeling or an emotion like "I miss you", "I love you", or just "thinking of you". Fuzzies can be left every day.