Ogden
High School
X
Search for another school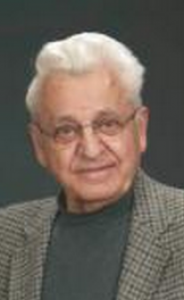 Angelo M. Decaria - 2/4/2011
Class of 1944
SOUTH OGDEN-Our loving husband, father, grandfather, great-grandfather and brother, Angelo M. Decaria, passed away peacefully at home, surrounded by his loved ones, at the age of 84.
He was born September 15, in Ogden, Utah to Domenic and Assuntina Villella Decaria.
He married the love of his life, Janet Andreoli, on August 16, 1952 at St. Joseph's Catholic Church in Ogden,
Angelo attended Ogden High School and graduated in 1944. Shortly after he entered the U.S. Army and served in World War II in the Philippines, and later was sent to the Army of Occupation to Japan. He attended Weber State University after serving his country.
He worked for the Southern Pacific Railroad, Safeway as an assistant manager and later worked and retired from Jetway Corporation, where he was shop superintendent. He also co-owned and operated D&W Steel.
Angelo was an active member of Holy Family Catholic Church. He was also a member of the B.P.O. Elks Lodge 719.
Angelo enjoyed volunteering at the Union Station where he shared many stories to the visitors who came to see the old cars. He loved to bowl, golf and enjoyed fixing and building numerous projects for his family to enjoy. But most of all he loved being with his family, whether it was traveling, playing card games or attending numerous activities of his grandchildren or later great-grandchildren.
He is survived by his wife, Janet, daughters Judy Hoskins and Susan (Don) Shaw, grandchildren: Melissa Mellott, Brian Shaw, Megan Hoskins and Kyle Shaw, brothers: Joe (Leta) Decaria, Victor (LaVera) Decaria, Albert (Deanna) Decaria and Jess (June) Decaria, sisters: Mary Colaizzi and Teresa (Ted) Whiting, sister-in-law Katherine Decaria and six great-grandchildren.
He was preceded in death by his ma and pa, brother Frank, brother-in-laws John Colaizzi, Leonard Carnes and three infant siblings.
He was a man of utmost integrity and was loved and trusted by his family, and all that knew him. He along with his sense of humor will be greatly missed.
The family would like to thank the wonderful staff and nurses Brooke and Andrea of Hospice for Utah for their care, love and support. A special thanks to Carly who took care of Ang from the beginning of his decline to the very end with such caring and loving hands.
There have been
0
fuzzies left so far.
Sign in
if you'd like to leave a fuzzy
What's a fuzzy?
A "fuzzy", in this case, is a feeling or an emotion like "I miss you", "I love you", or just "thinking of you". Fuzzies can be left every day.