Ogden
High School
X
Search for another school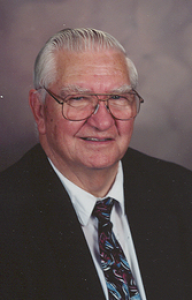 Leslie W. Cunningham - 2/9/2001
Class of 1945
Roy – Leslie W. Cunningham, 83, died February 9, 2011 at McKay Dee surrounded by his loving family. Les was born September 6, 1927 in Ogden, Utah the son of Samuel Robert and Pauline Naomi Storer Cunningham. Les graduated from Ogden High School. He enlisted in the Merchant Marines during WWII and served from August 1945 thru February 1947.
Les married Margaret Ellen Clark, June 3, 1950; their marriage was solemnized in the Salt Lake Temple on June 28, 1951. Marge preceded him in death on Dec 5, 1989.
Les was a member of the LDS Church and served as Bishop, in the High Council, as a scoutmaster, Sunday school teacher, High Priest Group Leader and as a missionary in the Alberta Canada Mission. He was a member of the Rotary Club and Kiwanis.
Les enjoyed fishing, camping with his family, singing and road trips.
He is survived by his children, Leslie Floyd (Anays) Cunningham, Kristie (Clifford) Holbrook, Kayla (Jeff) Wilson, Robert Max (Lisa) Cunningham and Kathy (Dana) Nye; 47 grandchildren; 47 great-grandchildren; 8 great-great-grandchildren; his sister, Doris (Roland) Taylor; 11 brothers and sisters-in-law; many cousins; nieces and nephews.
He was preceded in death by his wife Marge; parents; 3 brothers; 3 sisters; 1 grandson and 1 great-grandson.
There have been
0
fuzzies left so far.
Sign in
if you'd like to leave a fuzzy
What's a fuzzy?
A "fuzzy", in this case, is a feeling or an emotion like "I miss you", "I love you", or just "thinking of you". Fuzzies can be left every day.