Ogden
High School
X
Search for another school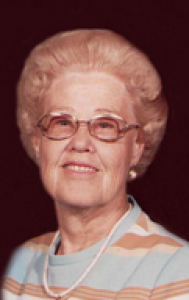 Ruth Charlotte Gullikson Isakson - 5/17/2011
Class of 1933
Ruth Charlotte Gullikson Isakson died May 17, 2011. She was born July 1, 1915, in Ogden, Utah, to Gullik Gullikson and Ellen Hallen Gullikson. She was the youngest of four children.
She graduated from Ogden High School and was an elevator operator at the Eccles Building after high school before her marriage.
On June 30, 1939, she married Herbert Harold Isakson, also of Ogden. They and their three sons were later sealed in the Logan Temple in 1957.
After living in Ogden on 24th Street, Herbert and Ruth moved to Pleasant View in 1950 where they raised their family, loved the community, and had a small fruit farm where their peaches and raspberries became legend. She enjoyed helping in the orchard and selling the fruit. They had lovely gardens of flowers and vegetables. She enjoyed canning and cooking.
Ruth and Herbert loved to travel, going to Europe and around the USA on tours, and visiting family in Hawaii, Ithaca, Wichita, and Portland. They also enjoyed fishing together.
Ruth was a lunchroom worker at Lomond View Elementary in Pleasant View for 15 years. She was also a wonderful seamstress. She learned to sew from her father who was a professional tailor and her mother who was a renowned seamstress.
Ruth was active in the LDS church, being a primary worker for years and a temple worker with her husband. In 1986, they moved back to Ogden on Harrop Street. She became a resident of Emeritus Estates in 2003.
She is preceded in death by her parents and her sister and brothers. Her husband Herbert passed away in 2000. She is survived by their three sons: Larry (Rebecca), Richard (Marné), and Brent (Susan) Isakson, 12 grandchildren, and 20 great grandchildren with three on the way. She was proud of her children and grandchildren, all of whom graduated from college and are upstanding, contributing citizens.
Ruth Isakson lived a good life, had many lifelong friends, and was beloved by her family.
There have been
0
fuzzies left so far.
Sign in
if you'd like to leave a fuzzy
What's a fuzzy?
A "fuzzy", in this case, is a feeling or an emotion like "I miss you", "I love you", or just "thinking of you". Fuzzies can be left every day.