Ogden
High School
X
Search for another school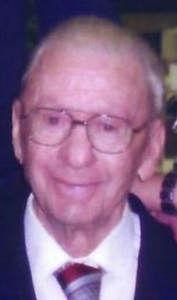 Roy Frank Taylor - 5/5/2011
Class of 1937
OGDEN – Roy Frank Taylor, 92 passed away Thursday, May 5, 2011 at the home of his son in West Point, Utah.
He was born March 20, 1919 in Gunn, Wyoming to Frank and Ada Marshall Taylor. He was raised in Ogden and graduated from Ogden High School.
On July 14, 1941, Roy married Thelma "Rita" Potter in Paris, Idaho. Their marriage was solemnized in the Salt Lake LDS Temple. Together they had five children. Roy and Thelma were married for 69 years until her passing last June.
During World War II, Roy served honorably in the 3rd Division of the U.S. Marine Corps, where he was a tank operator in the Pacific Theater in Guam and Iwo Jima. Unfortunately, this is where many of his fellow Marines where killed or wounded. He spent more than 55 years in the trucking business, driving more than five million miles covering all 49 states. He owned his own trucks, for a time, and his favorite memory was driving the Great Alaska Highway when it was a dirt road. He retired form IML Freight in 1984, having won many safe driving awards. He also worked for Yellow Freight for eight years.
As a member of The Church of Jesus Christ of Latter-day Saints, he served in many callings. He was always a hard worker and always set a good example for others to follow.
Roy enjoyed spending time with his family, camping and traveling throughout the U.S. and Canada. Dad always made our trips fun. He had a great wit and would tease us always making us laugh. Whenever he found a dirt road he would have to explore it, the steeper the better. Until six months ago, he maintained his home and large yard.
Dad was a very unassuming and humble man who would give the shirt off his back to anyone, never expecting anything in return. He never had a bad word to say about anyone and those who knew him knew of his sincerity and his care for them.
Roy is survived by four children, Dixie (Allan) Barlow, Potomac, MD; Randy (Lorna) Taylor, West Point; Shari Taylor, Hailey, ID; Marilee (Larry) Merritts, South Ogden; 13 grandchildren, 17 great-grandchildren; and a sister, Maena McBride, Ogden.
He was preceded in death by his wife Rita, a daughter Maureen, his parents and one brother and two sisters.
There have been
0
fuzzies left so far.
Sign in
if you'd like to leave a fuzzy
What's a fuzzy?
A "fuzzy", in this case, is a feeling or an emotion like "I miss you", "I love you", or just "thinking of you". Fuzzies can be left every day.