Ogden
High School
X
Search for another school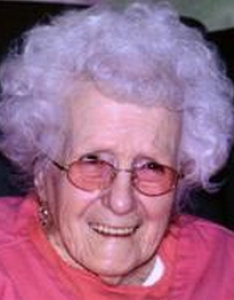 Mildred Nan Dean Brown Pierson - 5/10/2011
Class of 1941
OGDEN – Mildred Nan Dean Brown Pierson, 88, died May 10, 2011 from causes incident to age.
She was born March 13, 1923 in Ogden, Utah, a daughter of William and Helen Hufstetler Dean.
Mildred graduated from Ogden High School in 1941.
On December 6, 1944, she married Ron Brown in Ogden, Utah. He passed away on October 31, 1968. Mildred later married Dewey Pierson in Elko, Nevada. He died February 17, 1995.
Mildred had worked at the Ogden Arsenal during World War II, where she worked on machine gun bullets and hand grenades. She later retired from Hill AFB.
For a time, Mildred lived in Ft. Sill, OK but spent the majority of her life in Roy and Ogden.
She was a lifelong member of the First United Methodist Church and was involved in the Women's Circle #13.
Mildred was a member of the Eagles Club and Business Women of America.
She enjoyed growing roses, crocheting, reading, playing bingo and watching old Westerns, but raising her children and keeping family happy were her greatest loves.
Mildred is survived by three sons and a daughter, David L. (Linda) Brown, North Ogden; William R. (Deanne) Brown, Missoula, MT; Steven D. (Laurie) Brown, Stanfield, OR; Nanette H. (Jack) Miller, Trenton, UT; two stepsons and a stepdaughter, Mike (Linda) O'Neal, Price, UT; Dennis (Suzanne ) Pierson, Tremonton, UT; Sandy (Brent) Price, Provo, UT; as well as twelve grandchildren and 13 great-grandchildren.
Also surviving are five sisters, Marion Heninger, Lander, WY; Vivian Boyington, N. Ogden, UT; Dorthy Dean, Sandy, UT; Francis Biederman, Rantoul, IL; and Kay Dean, N. Ogden, UT. Mom had a very special love for her nieces and nephews.
Mildred was preceded in death by both husbands; two sisters, Margaret and Barbara; and two brothers, Ed and Billie. We never knew Billie, who died in World War II, but were always proud of his heroic deeds in the South Pacific.
There have been
0
fuzzies left so far.
Sign in
if you'd like to leave a fuzzy
What's a fuzzy?
A "fuzzy", in this case, is a feeling or an emotion like "I miss you", "I love you", or just "thinking of you". Fuzzies can be left every day.