Ogden
High School
X
Search for another school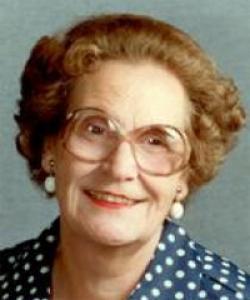 Lurline "Lolly" J. Rigby-Burns - 5/28/2010
Class of 1938
SUNSET – Lurline "Lolly" J. Rigby-Burns, died Friday, May 28, 2010 at McKay-Dee Hospital in Ogden following a brief illness.
She was born November 29, 1919 in Ogden, to Newel Franklin and Ivy Seifert Jones. She attended Ogden's Mound Fort Elementary and Junior High classes and graduated from the new Ogden High School as a member of the first graduating class in 1938. She attended Utah State Agricultural College in Logan and graduated a member of Phi Kappa Phi Honorary Scholastic Sorority in 1943.
After a brief career as an art teacher in Ogden and Garden Grove, California, she married Dr. Dean C. Rigby in Sacramento, California on October 7, 1945. Their marriage was solemnized on April 6, 1964 in the Manti LDS Temple. Following Dr. Rigby's two- year service in the U.S. Army Air Force, the couple settled in Dr. Rigby's home county of Sanpete where he practiced medicine for 22 years in Moroni and Mt. Pleasant, Utah until Dr. Rigby was killed in an automobile accident on August 26, 1968.
After her husband's death, Lolly returned to Ogden where she led a busy life attending Weber College to renew her teaching certificates. She taught elementary school for a year, then art in the community education programs and a class in children's art at the Eccles Art Center.
She was an active member of The Church of Jesus Christ of Latter-day Saints Ogden 62nd Ward where she was involved in the Primary and Relief society organizations.
She also enjoyed her membership in the American Association of University Women, Cosmopolitan Club, Toastmistress, Ogden Color Camera Club and several bridge clubs. Lolly also served as a volunteer teacher at Dee Elementary School for two years and as a volunteer teacher's aide at the Ogden Reform School Rehabilitation Facility for one year.
On September 13, 1997, she married Gean W. Burns, a former college classmate and lifelong friend. They made their home in Sunset where Gean was a well-known greenhouse operator.
Surviving are her husband, Gean W. Burns, Sunset; one son, Newel D. (Dorothy) Rigby, South Ogden; one daughter, Alice Gay (Michael) Silva, Hawaii; four grandchildren and one great-grandchild.
Also surviving are two sisters, Carol Hassell, Salt Lake City; and Gay (Del) Unander, Boise, ID.
She was preceded in death by her parents, her first husband, Dr. Dean C. Rigby and one sister, Fay Hancock.
There have been
1
fuzzies left so far.
Sign in
if you'd like to leave a fuzzy
What's a fuzzy?
A "fuzzy", in this case, is a feeling or an emotion like "I miss you", "I love you", or just "thinking of you". Fuzzies can be left every day.