Ogden
High School
X
Search for another school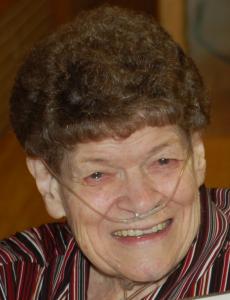 Dorothea Moore Kidman - 11/9/2010
Class of 1938
OGDEN – Dorothea Moore Kidman, 90, died Tuesday, November 9, 2010 at McKay-Dee Hospital.
She was born October 13, 1920, in Ogden, Utah to William B. and Myrtle Thredgold Moore. She graduated from Ogden High School in 1938 with the first graduating class. After losing her mother at age 17, she raised her siblings as their mom.
Dorothea married O. LaMar Kidman on November 28, 1942, in California during World War II. They were sealed in the Logan LDS Temple on July 9, 1943. They made their home in Ogden. LaMar passed away February 17, 1987.
She was a lifelong active member of The Church of Jesus Christ of Latter-day Saints.
Dorothea lived a life of service to her family and friends. Her family had been her life. She helped to raise nieces, nephews and her young sister-in-law, Mae. She also gave years of her life caring for her sister, Donna, who had MS. Dorothea loved her raspberry patch, sharing raspberries with everyone. She loved her cats and will be greatly missed by them.
The family expresses special thanks to Dr. John Friden and his former nurse Becky, for their kind and loving care over the years.
Surviving are her children, Kent and Brenda Kidman, South Weber; Karlene Kidman, Layton; Kurt Kidman, Ogden; Kathleen and Brent Lang, Ogden; grandchildren, Justin and Annette Kidman, Somerset, NJ; Jonathan and Beth Peart, Logan; Jordan Peart and Kylea Peart, both of Layton; Emelia Kidman, Copley, OH; Kara and Harris Hamburg, Maniago, Italy; Ashlyn Lang, Aidan Lang, and Carson Lang, all of Ogden; Miranda and Rick Gennaro, Hurst, TX; Brandon Nichols, South Weber; and her great-grandchildren, Halli Goldberg, Layton; Ian Peart, Logan; Madelyn Gennaro and Vincent Gennaro, Hurst, TX.
Also surviving are her siblings, Karl Moore, Melba Adams, Lois Maddock, and Wilma Ferrin.
Dorothea was preceded in death by her parents, husband, one brother and one sister.
There have been
0
fuzzies left so far.
Sign in
if you'd like to leave a fuzzy
What's a fuzzy?
A "fuzzy", in this case, is a feeling or an emotion like "I miss you", "I love you", or just "thinking of you". Fuzzies can be left every day.