Dixie
High School
X
Search for another school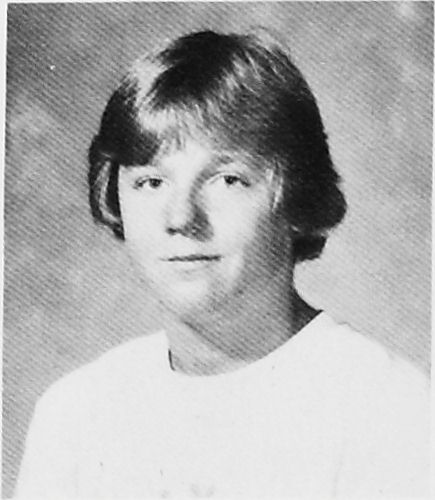 Mark Huntington - 11/11/1995
Class of 1982
BOUNTIFUL- Mark David Huntington II, was born on August 4. 1964 in Salt Lake City. Utah to someone who battered and abused him for the first year of his life. The next year he spent in hospitals and foster homes. One would wonder if he would ever fully recover from the abuse. However, on July 26. 1966, this bright, beautiful, blond-haired. blue-eyed little boy was adopted by Garn & Dorothy Huntington and three sisters, Becky. Ellen & Barbara. In no time at all the power of love healed all his wounds and he was soon the rambunctious, loving, mischievous, friendly and very, very bright little Huntington boy.
When Mark was three years old. the family moved to Virginia, and then back to Utah when he was six years old. He attended kindergarten in Logan, and later to St George to complete elemenatary and high school. He was gifted with words and would spend many hours writing poetry and stories. In 1981-82. he was the director and editor of the Dixie High School Prism. While attending college in Cedar City, he was heavily involved in the Shakespearian Festival. The theater and the arts were always important in Mark's life. He loved going to Broadway shows in both New York and in Los Angeles.
The Last 15 years. Mark has lived in Salt Lake City. He worked for Deer Valley Resort Lodging, and could never have had better friends and co-workers than he had there. Brenda: no words can ever thank you enough for the love and support you and your family have given to Mark.
Friends who stayed with Mark to the end: Scott, Paul, Cheryl, Colleen and Kim, thank you so much. David, what can we say except we couldn't have made it without you. Steve. what a friend, you literally went the "extra mile " Special thanks to Dr. Kristin Ries and Maggie, to Pat, Rhonda and James.
Mark is survived by his parents, Garn & Dorothy Huntington. Sister, Becky & Nick Hammer, West Yellowstone, MT.; Ellen & Bud Branham, St. George; and Barbara & Del Belyea, Bountiful; nine adoring nieces & Nephews: Randi and Tyler Nelson; Tina, Jessie, Jason & Kristi Branham; & Andee, Ciera & Bridger Belyea, and his grandmother Nora Bradshaw of Hurricane, UT.
Throughout this illness we have never heard Mark complain. He has maintained his sense of humor and dignity with the utmost courage. On November 11,1995. Mark made one last request, it was; "I'm ready now Scotty. Beam me up".
There have been
0
fuzzies left so far.
Sign in
if you'd like to leave a fuzzy
What's a fuzzy?
A "fuzzy", in this case, is a feeling or an emotion like "I miss you", "I love you", or just "thinking of you". Fuzzies can be left every day.