Dixie
High School
X
Search for another school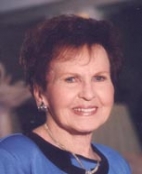 Mary Mae Abbott - 11/5/2010
Class of 1939
Mary Mae Cottam Abbott slipped away peacefully from this life on November 5, 2010 at the age of 89. Strong, courageous and loving to the end, this rare jewel of a woman will be deeply missed by her family as she returns to her Heavenly Father and loving family members who await her there.
Mary was born October 24, 1921 in the old Cottam home on 500 East and 300 South, to her adoring parents, Arthur and Mary Mae Pritchard Cottam. She was the 7th child and 4th daughter in the large, happy Cottam family. Mom was surrounded by many aunts, uncles, and cousins in her childhood. She attended schools in Washington County including Woodward Junior High and High School as well as Dixie College. Mom married her one and only sweetheart, Laurel Kent Abbott, in the St. George Temple on September 25, 1940. Mary and L.K. recently celebrated their 70th wedding anniversary. They are the parents of two children; Kathy Jarvis (Joseph) 0f Cedar City, Utah and Gregory (Luann) of St. George. The family lived in Las Vegas, Nevada and Bakersfield, California. In 1968, Mary and L.K. moved to Salt Lake City where they lived and worked until L.K. retired in 1985. They then returned to the old Cottam home in St. George, a location filled with family and memories, where they have resided ever since.
Mary was a devoted wife, mother, grandmother, and great grandmother. She supported and loved unconditionally all of her posterity. She had a deep and abiding faith in her Savior and served faithfully in the Church of Jesus Christ of Latter-day Saints, including in the Relief Society presidency several times and the Young Womens organization. Though humble and quiet, Mary was determined and extremely capable. She traveled the World with her adoring husband and made all those she met feel loved and appreciated.
Mom loved beautiful music, art, flowers, poetry, and great literature. She shared these special joys with friends and family. Most of all, she loved her family and the time they spent together. She rejoiced in every child's achievement, no matter how small. Mom leaves a legacy of kindness and love, and a lifetime of joyful memories.
Mom is survived by her husband of 70 years, L.K Abbott of St. George, Utah; her children, Kathy (Joseph) Jarvis of Cedar City, Utah and Gregory (Luann) of St. George; eight grandchildren; 25 Great-Grandchildren; sister-in-law, Dixie (Edward) Cottam; and brother-in-law Alma Evans. She is preceded in death by 3 sisters; Ruth Earl Cannon Smith, Carma Evans, Della Maggard and 4 brothers; William Cottam, Ronald Cottam, Karl Cottam and Edward Cottam.
The family wishes to thank the wonderful staff at Southern Utah Home Health and Hospice for their excellent and loving care, as well as the nurses and staff at Red Cliffs Rehabilitation and Convalescent Home.
There have been
0
fuzzies left so far.
Sign in
if you'd like to leave a fuzzy
What's a fuzzy?
A "fuzzy", in this case, is a feeling or an emotion like "I miss you", "I love you", or just "thinking of you". Fuzzies can be left every day.